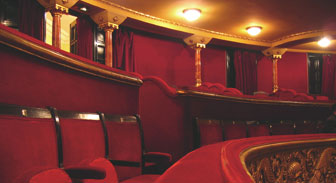 With so much to see and do on your vacation to Maine, it is easy to forget about an important part of the state's culture – theater. Seven of Maine's eight tourist regions are home to theater groups and companies, each one as outstanding as the next. An evening out as a patron of the arts will push your time in Maine from a great experience to unforgettable vacation.
On the Beaches
John Lane's Ogunquit Playhouse, one of the coastal region's premier summer playhouses, has been in operation since 1933. The playhouse's summer season runs between the months of May and September, during which Orgunquit produces Broadway plays and musicals with frequent guest appearances by well-known stars.
The Hackmatack Playhouse, in Berwick, is another theater company open only for the summer season. The playhouse is unique in that it is located on the Guptill family farmstead, giving performers and patrons alike the feel of a fun family gathering during each performance. The Hackmatack Playhouse also hosts an annual summer drama camp for children between the ages of seven and 13.
If you are looking for variety, the Sanford Maine Stage Company has just what you are after. Each season the Stage Company puts on an assortment of shows including a classic play, several murder mystery dinner theaters, and a kid-friendly selection for their children's theater. Maine Stage Company also features extra events like a Shakespeare reading of a magic show.
Greater Portland and Casco Bay
For a family affair, visit the Children's Theatre of Maine. Located in Portland, the Children's Theatre is a nonprofit organization and the longest running, continuously producing children's theater company in the country. Their goal is to engage children in theater with age appropriate, family showings that give children confidence in themselves and their surroundings.
For something a little different, the Figures of Speech Theatre in Freeport is dedicated to exploring personal, social, spiritual issues and ideas through puppetry. The company, founded by John and Carol Farrell in 1982, has performed all over the world and believes that audiences experience art more fully when they are called upon to engage in the story. Their goal is to make this happen through their work with puppetry, live actors, and outstanding storytelling.
The Portland Stage Company is Maine's largest professional theater. Each season generally includes about eight different plays, and focuses on theater education through PlayNotes, pre- and post show discussions, as well as in-school workshops.
Lakes and Mountains
The Public Theatre in Auburn is dedicated to producing professional Broadway and off-Broadway shows with only professional actors from New York and Maine as their performers. They seek to provide professional shows the average person can enjoy at an affordable price.
Kennebec and Moose River Valleys
The Theater at Monmouth puts on productions by the most well-known playwright of all time. The theater has been designated the Shakespearean Theater of Maine and participates in the prestigious Shakespeare in American Communities Program. If you've never before seen a live Shakespearean play performed, here's your chance.
The official state theater of Maine is the Lakewood Theater in Madison. The Lakewood Theater offers an 18-week season that runs during the summer months and hosts plays in a variety of genres that almost every type of theater goer can enjoy and appreciate.
Mid-Coast
Lovers of musical theater will have a ball in the Mid-Coast region because there are two great live arts theaters that champion musicals: the Maine State Music Theatre and the Carousel Music Theatre. Located in Brunswick, the Maine State Music Theatre has been running since 1959, and focuses on bringing new works to life while rediscovering classic pieces. The Carousel Music Theatre, on the other hand, makes it's home in Boothbay Harbor, and prides itself on being a mixture of Broadway, vaudeville, and classical music theater.
The Belfast Maskers are a year-wide theater group that performs a nice mixture of genre pieces at a theater that overlooks the water.
DownEast and Acadia
Just 8 miles from Bar Harbor on Mt. Desert Island is the Acadia Repertory Theatre. Open only during the summer season, the Repertory Theatre performs children's shows, comedy, drama, and mysteries; the likes of which everyone can enjoy.
The Criterion Theatre in Bar Harbor is an 870-seat theater that is listed on the National Register of Historic Places. The Art Deco setting and floating balcony provide patrons with the feeling that they've stepped back in time with performances much like the ones put on during the theater's heyday, when vaudeville was all the rage.
The Highlands
The Penobscot Theatre Company in Bangor holds their seasonal performances in every imaginable genre between the months of September and May. Meanwhile, June through August finds the company hosting the Maine Shakespearean Festival, an event that attracts thousands of visitors annually.
With so many local and professional groups available, it is easy to see that Maine's residents have a great appreciation for the arts. No matter where your interests lie, Maine's shows run the gamut. Wherever your vacation takes you, don't forget to look in to the regional theaters – you won't want to miss out on your chance to experience theater like only Maine can produce.
Print this Article